South Coast of Iceland Self Drive
Discover some of Iceland's most spectacular sites on this short but exciting road trip of the stunning South Coast.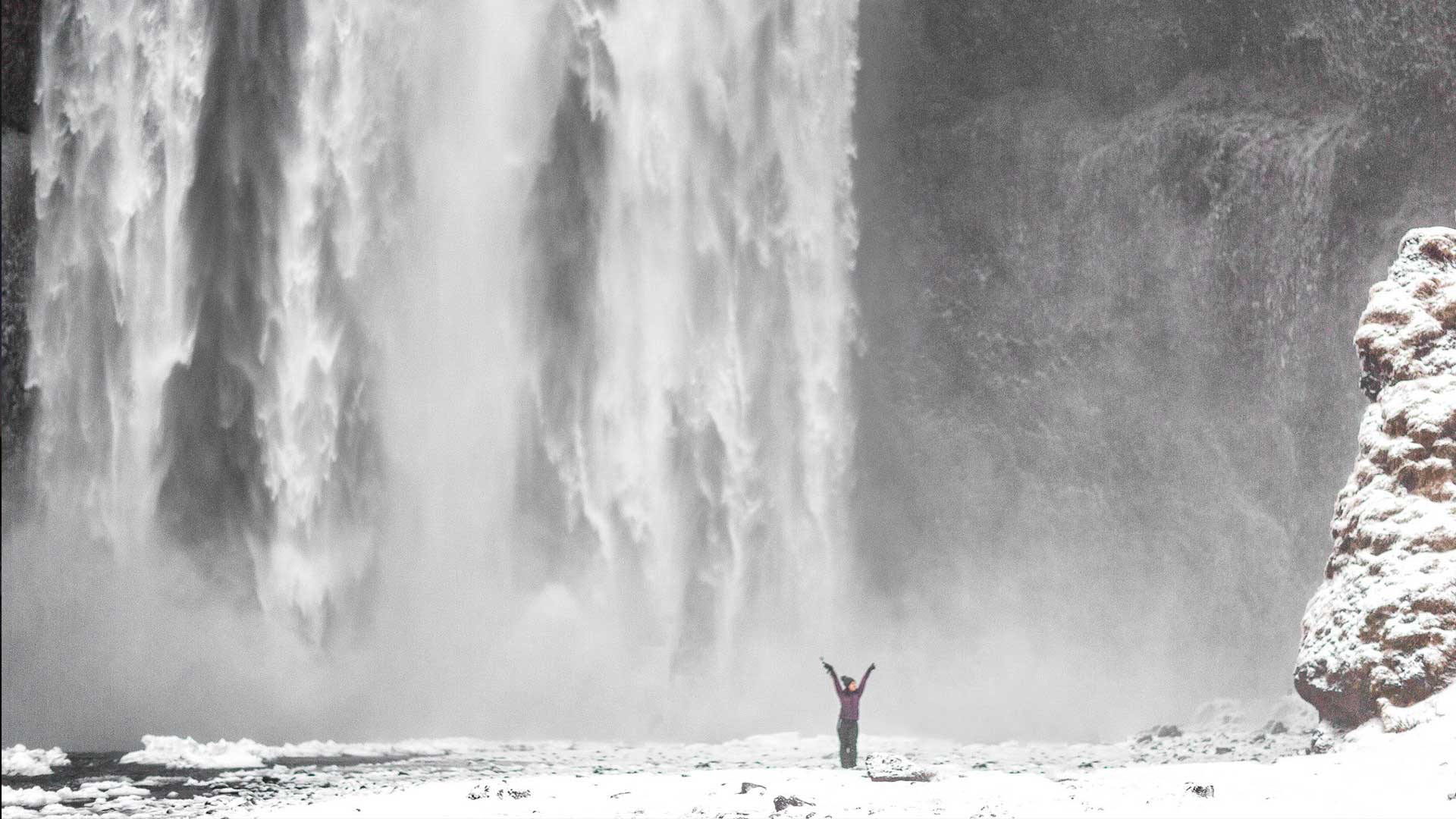 What you'll experience.
Visit the beautiful attraction on the world famous South Coast of Iceland in this 6 day / 5 night self-driver tour.
Don't worry if you've only got a few days to visit Iceland. This short self-drive tour will take you to some of the most breathtaking natural sites in Iceland, without running you ragged all over the country!
Your days will be packed with stunning waterfalls, black sand beaches, and towering volcanoes. You'll see majestic glaciers and soak in natural hot springs. But you'll focus on a manageable area, so you don't spend your whole vacation stuck in a car!
Self-drive tours are the best way to experience all that Iceland has to offer. This way, you are in complete control of the journey, with no hassle and no crowded buses!
Please be aware that adding optional activities may change the itinerary slightly. We will provide a detailed itinerary once your booking has been confirmed.
To request a price quote for this tour, please fill out the booking inquiry, and we will send you a price quote based on your preferences.
If you are planning on driving in Iceland during winter, between September and May, we highly recommend choosing a 4×4 vehicle for your safety and to make your vacation more enjoyable. The weather in Iceland can change suddenly and you could encounter snow or sleet. Some roads are also not accessible for smaller vehicles but can be reached on 4×4´s.
To ensure your safety on our self-drive tours in Iceland, we only provide 4WD cars from 1st of October through March, due to possible snow, sleed, and other hazardous road conditions.
Included in rental rate
Unlimited mileage
CDW (Collision Damage Waver)
SCDW (Super Collision Damage Waver)
GP (Gravel Protection. Includes damages to windscreens, headlights and the car)
TP (Theft Protection)
Extra driver option
4G WiFi with unlimited data to stay connected during your tour
VAT 24%
Not included in rental rate
Can be added in the booking process
Liability waiver for carefree travelling
Small car: 3.290 ISK per day
Medium/Large car: 3.890 ISK per day
GPS navigation system
Some cars have free GPS systems on board
1.550 ISK per day
SAAP (Sand and Ash Insurance)
Recommended for those travelling the south coast.
Rates depend on the size of the rental car.
Baby seat
0 – 13 kg 4.000 ISK per rental
Child seat
15 – 36 kg 4.000 ISK per rental
You can choose from three main categories of accommodations in the booking request process, comfort, quality, and luxury. Breakfast is included in all categories.
Comfort
This includes rooms with private bathroom and shower, in hotels and guesthouses.
Breakfast is included.
Quality
This includes rooms with private bathroom and shower, in 3 — 4 star hotels or the best available in the area.
Breakfast is included.
Luxury
This includes rooms or suites with private facilities, in luxury accommodation. Please note that this category has very limited availability and is not available in all parts of Iceland.
Breakfast is included.
Day 1
Day 1
Welcome to Iceland! On arrival at Keflavík International airport, you'll pick up your rental car and kick off your adventure. Depending on what time you touch down, you might like to visit the world-famous volcanic spa called the Blue Lagoon.
If this sounds interesting, make sure you let us know in plenty of time so we can arrange your tickets! You will spend your first night of this trip in the capital city of  Reykjavík or the peaceful Selfoss area. Let us know if you have a preference!
Km driven: 50/110
Day 2
After breakfast, you can take a short hike to Reykjadalur Steam valley. Don't forget your swimsuit, because you can take a soak in the geothermal river that runs through the beautiful valley. After drying off, you will head out to drive the spectacular Golden Circle Route. 
Your first stop will be Þingvellir national park, a UNESCO World Heritage Site and home to the beautiful rift valley. You can go snorkeling in between the drifting tectonic plates in the crystal clear waters of the Silfra fissure; just let us know if you'd like us to arrange it!
Next up is the spouting hot spring Strokkur in the Geysir area before you head to the beautiful Gullfoss waterfall. After soaking in the outstanding natural beauty, you'll head to your accommodation around the town of Hella. 
Km driven: 200
Day 3
Your first stop today will be at the gorgeous Seljalandsfoss waterfall. An easy walk will take you right behind the falling water, where you can take some fantastic photos or just soak up the present moment. 
Next, you will visit the majestic Skógafoss waterfall. It is much more powerful than Seljalandsfoss, but they are both outstanding sites of natural beauty. Once you've torn yourself away from Seljalandsfoss, you can wander down to the abandoned plane wreck on the black sand beach at  Sólheimasandur. 
Your final stop will be the towering lava columns at Reynisfjara beach. The beach is black because of all the volcanic activity in the area, and it provides a striking contrast to the crashing waves of the North Atlantic Ocean. Take as long as you need to enjoy the ocean breeze before heading to your accommodation around Vík.  
Km driven: 150
Day 4
It might seem impossible that Iceland can get any more beautiful. Until you arrive at Fjaðrárgljúfur canyon, that is. The dramatic canyon walls frame the vast flowing river of Fjaðrá. Don't get too close to the edge, though, because narrow canyon arms can crumble under too much pressure!
Your next stop will be at Skaftafell. This area is famous for its beautiful hiking trails, which will take you to gorgeous waterfalls and sharp mountain ridges. We recommend a short hike up to Svartifoss waterfall, which is surrounded by wonderful basalt columns. 
After your hike, you'll head to Jökulsárlón glacier lagoon and the glittering Diamond beach. There you can watch the icebergs drift across the lagoon on their journey to the ocean. If you want to get even closer, it's possible to take a boat trip up to the ice formations. Let us know if you'd be interested in a glacier hike or ice climbing session on this day; we'll be happy to help you arrange this! Tonight, you will sleep in the Vík area. 
Km driven: 380
Day 5
It's time to head back to Reykjavík, where you will spend your final night. Let us know if you'd prefer to check out some more natural beauty or if you'd like to experience Icelandic culture with a day in the capital city. 
You could visit museums or botanical gardens in Reykjavik or even take a wildlife tour on a small boat from the harbor. It's also possible to go on a guided walking tour of the city or arrange a riding trip on one of our famous Icelandic horses. 
It's up to you if you want to enjoy a quiet evening relaxing in your accommodation or hit the buzzing bars and restaurants of Reykjavík. If you need any suggestions, we'll be happy to help. 
Km driven: 190
Day 6
All good things must come to an end! Today you will depart from Iceland, but you might have some time to enjoy a few last activities in Reykjavík. Let us know if your flight will be late this evening, and we can help you plan your last morning in the city. 
You will drop off your rental car at Keflavík International Airport before heading to your gate. We wish you a safe journey home, and we hope to welcome you back to Iceland in the future!
Km driven: 50
Included in final tour price
Accommodation for 5 nights with daily breakfast (except arrival day)
Rental car of your choice for 6 days including: CDW, SCDW, TP, GP, Extra driver, 4G Wifi dongle with unlimited data and VAT 24%
Detailed personal itinerary
Carbon offsetting (16 trees planted)
Taxes and service fees
Personal and professional service
Not included
Flight to/from Iceland
Personal travel insurance
Gasoline/petrol, tunnel and parking fees
Meals and drinks beside breakfast
Entrance and parking fees unless otherwise stated
Optional activities listed in booking enquiry process