Iconic Highlights of South & West Iceland
Explore the breathtaking waterfalls, glaciers, and hot springs of South and West Iceland on this exciting 7-day adventure.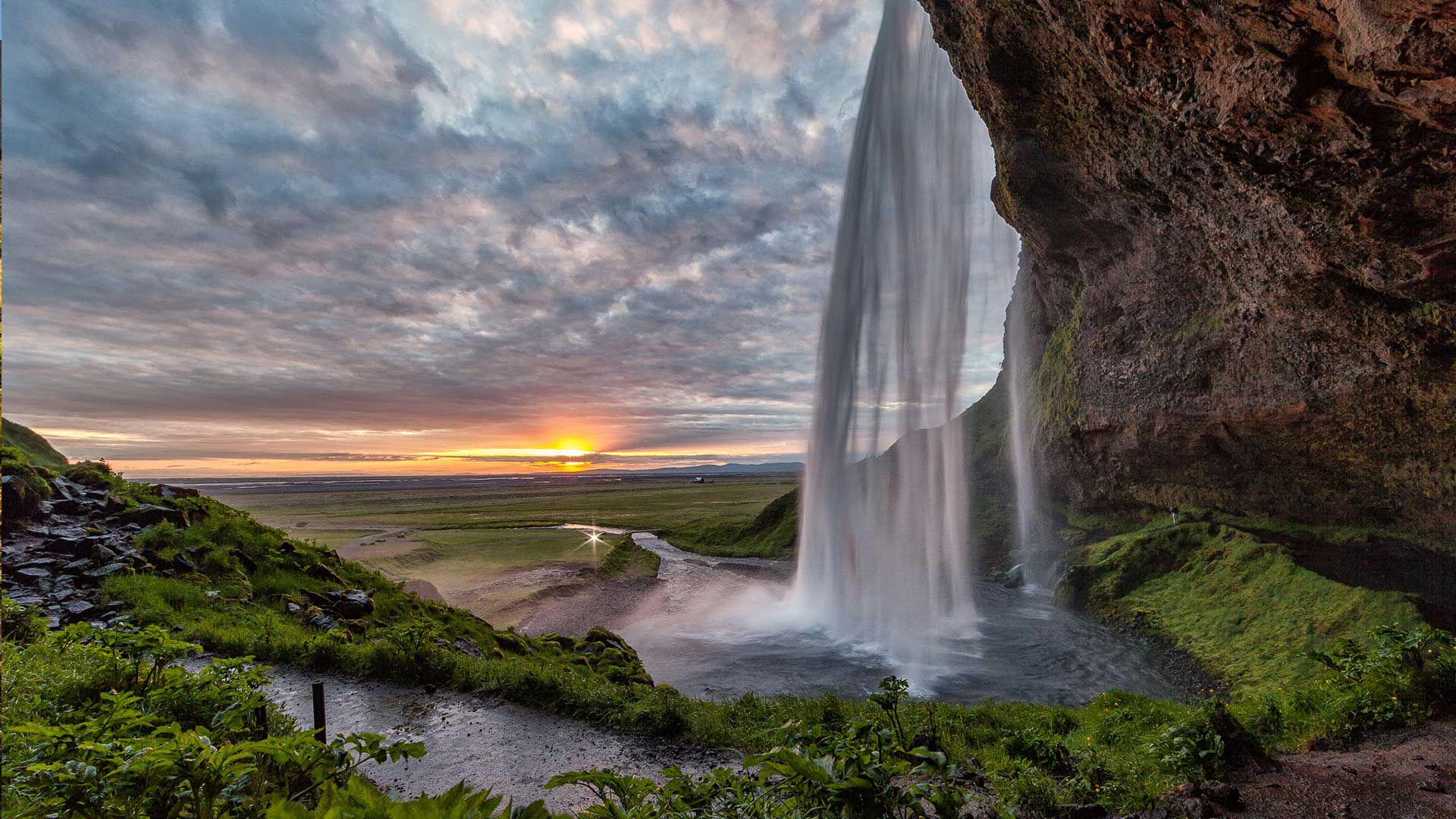 What you'll experience.
Experience the best of Iceland on this one-week self-drive tour! Instead of attempting the entire ring road, you will focus on the South and West of Iceland. This means you can take the time to fully enjoy the incredible sites on your itinerary. 
You will discover majestic glaciers, vast black sand beaches, boiling hot springs, and breathtaking waterfalls. You will also get the chance to explore ice caves, visit explosive geysers, and check out an isolated plane wreck on the Icelandic shores. 
Self-drive tours are the best way to experience all that Iceland has to offer. This way, you are in full control of the journey, with no hassle and no crowded buses! We are here to help, so don't hesitate to let us know if you want to adjust this adventure to make it perfect for you. 
Please note that adding optional activities may change the itinerary slightly. We will provide a detailed itinerary once your booking has been confirmed.
To request a price quote for this tour, please fill out the booking inquiry, and we will send you a price quote based on your preferences.
If you are planning on driving in Iceland during winter, between September and May, we highly recommend choosing a 4×4 vehicle for your safety and to make your vacation more enjoyable. The weather in Iceland can change suddenly and you could encounter snow or sleet. Some roads are also not accessible for smaller vehicles but can be reached on 4×4´s.
To ensure your safety on our self-drive tours in Iceland, we only provide 4WD cars from 1st of October through March, due to possible snow, sleed, and other hazardous road conditions.
Included in rental rate
Unlimited mileage
CDW (Collision Damage Waver)
SCDW (Super Collision Damage Waver)
GP (Gravel Protection. Includes damages to windscreens, headlights and the car)
TP (Theft Protection)
Extra driver option
4G WiFi with unlimited data to stay connected during your tour
VAT 24%
Not included in rental rate
Can be added in the booking process
Liability waiver for carefree travelling
Small car: 3.290 ISK per day
Medium/Large car: 3.890 ISK per day
GPS navigation system
Some cars have free GPS systems on board
1.550 ISK per day
SAAP (Sand and Ash Insurance)
Recommended for those travelling the south coast.
Rates depend on the size of the rental car.
Baby seat
0 – 13 kg 4.000 ISK per rental
Child seat
15 – 36 kg 4.000 ISK per rental
You can choose from three main categories of accommodations in the booking request process, comfort, quality, and luxury. Breakfast is included in all categories.
Comfort
This includes rooms with private bathroom and shower, in hotels and guesthouses.
Breakfast is included.
Quality
This includes rooms with private bathroom and shower, in 3 — 4 star hotels or the best available in the area.
Breakfast is included.
Luxury
This includes rooms or suites with private facilities, in luxury accommodation. Please note that this category has very limited availability and is not available in all parts of Iceland.
Breakfast is included.
Day 1
Welcome to Iceland! After you arrive at Keflavík airport, you will pick up your rental car and head towards Reykjavík, where you will spend your first night. Let us know if you'll be arriving early in the day because we can help you arrange some extra activities like wildlife tours or museum visits. 
But if you're feeling tired after your journey, you can head straight to your accommodation for a comfortable night's sleep. 
Km driven: 50
Day 2
Today you will be exploring the spectacular natural beauty of the Snæfellsnes peninsula.  First, you will head to Borganes, a small town located in the Borgarfjörður fjord. From there, you will drive through the lava fields of Eldborgarhraun, where you can take a short hike up to the Eldborg volcanic crater. 
After taking some time to admire the view, you will carry on driving along the south coast of Snæfellsnes until you arrive in Hellnar. This is a fantastic opportunity to check out Vatnshellir cave. A spiral staircase descends 200 meters into an 8000-year-old lava cave. Look out for the vivid splashes of color from all the minerals inside the rock. 
Next up, you will drive to Snæfellsjökull glacier. If conditions are good and you are in a 4×4 car, it is possible to drive up to the glacier's edge and take a walk on the ice cap. Tonight you will sleep in the Snæfellsnes area. 
Km driven: 235
Day 3
After breakfast, you will continue your Snæfellsnes peninsula exploration. Your first stop is Stykkishólmur, a  charming fishing town by the north coast of the peninsula. We highly recommend taking a boat ride out on the bay to observe the area's amazing wildlife. You will even get the chance to taste freshly caught scallops and mussels right on the boat. 
From Stykkishólmur, you will head towards Húsafell. On your way, you will make stops at the beautiful waterfalls of Hraunfossar and Barnafoss. In Húsafell,  you can also join an optional expedition to the vast man-made ice cave in Langjökull glacier. You will spend the night in the Húsafell area. 
Km driven: 235
Day 4
Today you will make your way to the iconic Southern part of Iceland. After driving towards Reykjavík, you'll make a turn to Þingvellir National Park. This UNESCO World Heritage Site is rich in Icelandic history, and it's also extremely beautiful. You can visit the rift valley, where continental plates are drifting apart. 
If that wasn't close enough, we can arrange for you to go snorkeling in the crystal clear waters between the Eurasian and North American plates. Just let us know what you think! After Þingvellir, you will head to the Geysir geothermal area and check out the spouting hot spring called Strokkur,  before heading to Gullfoss waterfall. Look out for rainbows in the golden waterfall mist before you head on to your accommodation in the Flúðir area. 
An optional soak in the Secret Lagoon can also be arranged for this evening. Your tired muscles will be grateful for it! 
Km driven: 245
Day 5
This morning you will head to the gorgeous South Coast. Your first stop will be at Seljalandsfoss waterfall, where you can walk right behind the crashing glacial waters. Next, you will check out the more powerful waterfall of Skógafoss, which tumbles over ancient sea cliffs. You will then take a walk to the abandoned plane wreck at Sólheimasandur beach, which is famous all over the world. 
Your final activity for the day will be to wander along the black sands of Reynisfjara. This volcanic beach is home to towering basalt columns formed by the cooling of ancient lava. Take some time to breathe in the ocean and listen to the circling birds. Tonight, your accommodation is in the Vík area. 
Km driven: 145
Day 6
If you're up for the adventure, we can arrange for you to hike on the Sólheimajökull glacier today. You don't have to have any experience, and you'll be under the care of an expert guide who will provide the technical kit. Afterward, you will head back towards Reykjavík. 
On your way to the capital, we highly recommend that you stop in the town of Hveragerði for a short hike to the Reykjadalur valley. Don't forget your swimsuit, because you can bathe in the warm waters of the geothermal river, beneath the open sky and surrounded by the hills. 
Otherwise, you might prefer to visit the world-famous volcanic spa called the Blue Lagoon. Tickets for this location are limited, so you'll have to let us know well in advance so we can make sure you get your tickets. You will spend your final night in Reykjavík. It's up to you if you hit the lively bars or enjoy a relaxing meal in a good restaurant. 
Km driven: 185 to 265 (depending on itinerary choice).
Day 7
Your adventure in Iceland has come to an end! If your flight is late in the evening, you might like to check out some of the museums or botanical gardens of Reykjavík. When it's time to go home, you will drop off your car rental at Keflavík airport before heading to your departure gate. We wish you a safe trip, and we hope to welcome you back to Iceland one day in the future. 
Km driven: 50
Included in final tour price
Accommodation for 6 nights with breakfast
Rental car of your choice for 7 days including CDW, PAI, TP and VAT 24%
Detailed personal itinerary
Carbon offseting (16 trees planted)
Taxes and service fees
Personal and professional service
Not included
Flight to/from Iceland
Personal travel insurance
Gasoline/petrol and tunnel fees
Meals and drinks beside breakfast
Entrance fees unless otherwise stated
Optional activities listed in booking request process