Iceland Road Trip With Activities
Discover the Icelandic Ring Road and Golden Circle on this 8 day/7 night self-drive tour. You will soak in hot springs, hike across glaciers and embark on an unforgettable whale-watching expedition.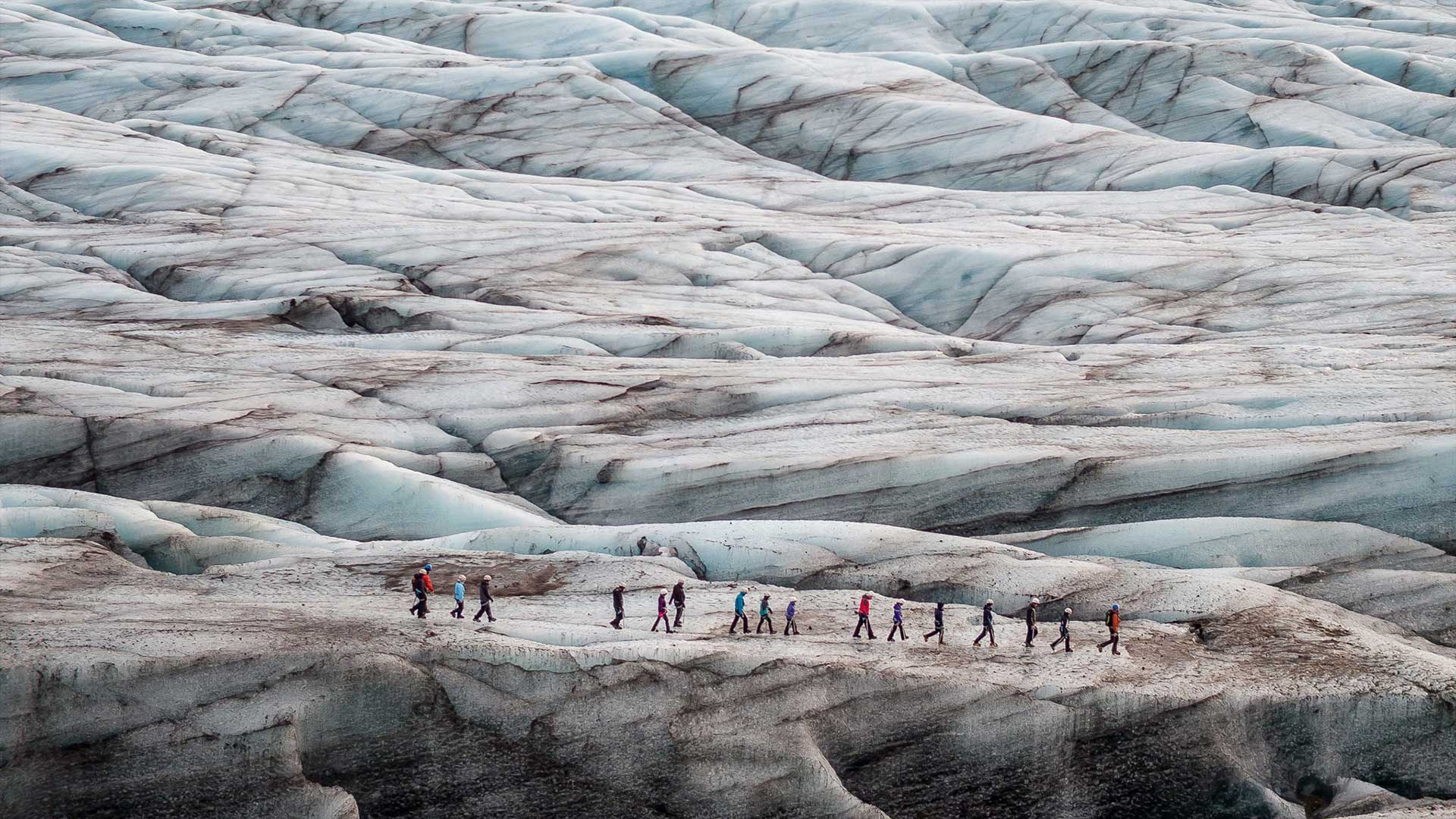 What you'll experience.
This exciting 8-day tour is similar to the Iceland Classic Highlights tour, but you'll have some additional activities booked in advance.
As well as exploring Iceland's stunning wilderness and soaking in natural hot springs, you will take part in an unforgettable glacier hike with an experienced guide. If that wasn't enough, you will board a whale-watching vessel in Húsavík to visit the humpbacks, minke whales, and white-beaked dolphins that live wild and free in Icelandic waters.
You'll escape the crowded tour buses and take the journey at your own pace, covering the entire Ring Road Route and the incredible Golden Circle. We've got your accommodation and activities covered, so you can focus on the spectacular waterfalls, volcanoes, and glaciers along the way.
The activities are included in the tour price, but we can always make adjustments according to your preferences.
To request a price quote for this tour, please fill out the booking inquiry, and we will send you a price quote based on your preferences.
If you are planning on driving in Iceland during winter, between September and May, we highly recommend choosing a 4×4 vehicle for your safety and to make your vacation more enjoyable. The weather in Iceland can change suddenly and you could encounter snow or sleet. Some roads are also not accessible for smaller vehicles but can be reached on 4×4´s.
To ensure your safety on our self-drive tours in Iceland, we only provide 4WD cars from 1st of October through March, due to possible snow, sleed, and other hazardous road conditions.
Included in rental rate
Unlimited mileage
CDW (Collision Damage Waver)
SCDW (Super Collision Damage Waver)
GP (Gravel Protection. Includes damages to windscreens, headlights and the car)
TP (Theft Protection)
Extra driver option
4G WiFi with unlimited data to stay connected during your tour
VAT 24%
Not included in rental rate
Can be added in the booking process
Liability waiver for carefree travelling
Small car: 3.290 ISK per day
Medium/Large car: 3.890 ISK per day
GPS navigation system
Some cars have free GPS systems on board
1.550 ISK per day
SAAP (Sand and Ash Insurance)
Recommended for those travelling the south coast.
Rates depend on the size of the rental car.
Baby seat
0 – 13 kg 4.000 ISK per rental
Child seat
15 – 36 kg 4.000 ISK per rental
You can choose from three main categories of accommodations in the booking request process, comfort, quality, and luxury. Breakfast is included in all categories.
Comfort
This includes rooms with private bathroom and shower, in hotels and guesthouses.
Breakfast is included.
Quality
This includes rooms with private bathroom and shower, in 3 — 4 star hotels or the best available in the area.
Breakfast is included.
Luxury
This includes rooms or suites with private facilities, in luxury accommodation. Please note that this category has very limited availability and is not available in all parts of Iceland.
Breakfast is included.
Day 1
Welcome to Iceland! You will pick up your rental car at Keflavík airport before heading South to kick off your adventure. Depending on your arrival time, you might consider a visit to Blue Lagoon. This gorgeous volcanic spa is famous all over the world, so let us know in advance if you'd like us to arrange some tickets for you. 
You'll be sleeping in our handpicked accommodation in the Selfoss area tonight. You might like to stretch your legs along the Ölfusá river or just unwind in your room after your long journey. Sleep well, because the adventure kicks up a notch tomorrow!
Km driven: 110
Day 2
Get your bathing suit at the ready. This morning you will drive to the Reykjadalur valley, just north of the village Hveragerði. Then, you will take a short hike towards the geothermal river and take a warm soak beneath the open sky. 
The next stop is the spectacular Golden Circle route.  First, you will head to Þingvellir National park, a UNESCO World Heritage Site and meeting place of the ancient Icelandic leaders. You can wander through the stunning rift valley, created by the drifting North-American and Eurasian tectonic plates. 
Next up, you'll visit the explosive geyser called Strokkur in Haukadalur valley, before heading to the picturesque waterfall Gullfoss. This is the first of many stunning waterfalls that you'll discover on your trip, and it's going to take your breath away. Your accommodation for the night will be in the Hella area.
Km driven: 190
Day 3
From waterfalls to glaciers to black sand beaches, today will be one to remember! First, you will head to Seljalandsfoss waterfall. This waterfall is unique because you can walk right behind the tumbling water. After letting the glacial mist wash over you, you will visit the nearby Skógafoss waterfall, which crashes over ancient sea cliffs. 
Next, you will meet up with your certified glacier guide at Skógafoss. You'll be given a safety demonstration and provided with specialist gear before heading out for a walk across the ancient ice cap. Once you've finished exploring the ice, you can check out the famous plane wreck at Sólheimasandur beach before enjoying some downtime on the black sands of Reynisfjara. Finally, you'll tumble into your bed at Skaftafell, where you'll need a good night's rest after so many activities! 
Km driven: 230
Day 4
Don't worry if yesterday's glacier hike went by too quickly. This morning you'll be heading to the Jökulsárlón glacier lagoon to discover the spectacular floating icebergs. You might hear a mighty crash as another mountain of ice crumbles from the Vatnajökull glacier and starts its journey towards the North Atlantic ocean. 
You can see the icebergs up close from land, but you're welcome to arrange an optional boat ride to get even closer. You could also do an additional glacier walk if yesterday left a real impression, or you can head straight to Djúpivogur village to warm up with a hot cup of coffee. 
If you fancy it, you can arrange a fishing trip on an old oak boat from Breiðdalsvík. Or if you're tired, just head on to the mountainous East Fjords, where you will spend the night. Look out for wild reindeer as you arrive at your accommodation! 
Km driven: 330
Day 5
You've already seen some impressive waterfalls, but just wait until you set your eyes on Dettifoss. The 100-meter wide waterfall is far less busy than the waterfalls on the South Coast, so you'll have all the time and space you need to soak up the incredible natural beauty. 
Next, you'll head to Húsavík, the whale-watching capital of Iceland,  for a chance to see our gentle giants in the wild. Minke whales, humpbacks, and white-beaked dolphins are seen nearly every day in these thriving waters. After your whale watching trip, don't forget to check out the whale museum if you're interested in Iceland's history. You'll spend the night in this beautiful little fishing village. It's got plenty of cute little restaurants for you to check out. 
Km driven: 295
Day 6
Nature lovers will be in their element today. After enjoying a leisurely breakfast, you will stop at the beautiful lake Mývatn. This stunning volcanic lake is home to countless birds. Not to mention some incredible rock formations!
Leaving behind the peaceful lake, you'll come to the thundering Goðafoss waterfall. This gorgeous place is shrouded in legend. That's why it's known as the "waterfall of the Gods." 
Later, you'll emerge from the Icelandic wilderness and arrive in the Northern capital of  Akureyri. You can take a stroll down to the famous church or explore the vibrant bars and eateries. You will head back into the countryside tonight to rest peacefully in the Skagafjörður area. 
Km driven: 240
Day 7
Today you'll make your way slowly back to Reykjavík. You'll have plenty of time to stop off at the stunning waterfalls and viewpoints along the way. Reykholt, Hraunfossar, and Barnafoss waterfalls are all on the agenda. You can also stop at Deildartunguhver hot spring, a powerhouse to Iceland's heating (including our geothermal greenhouses!).
Once you're safely back in the city, the night is yours. You can relax at your accommodation and reflect on all the experiences you've just had, or you can head out for one last adventure in the buzzing bars of Reykjavík.  
Km driven: 375
Day 8
It's time to pack your bags and head back to the airport. Or, if your flight is leaving in the evening, you might still have time to soak in the Blue Lagoon. We can help you get your tickets, but make sure you let us know in plenty of time!  It'll be a sad journey out of Iceland, but we look forward to welcoming you back one day in the future. 
Km driven: 50
Included in final tour price
Accommodation for 7 nights with breakfast
Rental car of your choice for 8 days including CDW, SCDW, TP, GP, Extra driver, 4G Wifi dongle with unlimited data and VAT 24%
Guided glacier hike on one of Iceland's ice cap glaciers
Whale watching from Húsavík harbor
Detailed personal itinerary
Carbon offsetting (16 trees planted)
Taxes and service fees
Personal and professional service
Not included
Flight to/from Iceland
Personal travel insurance
Gasoline/petrol, road tolls, and parking fees
Meals and drinks beside breakfast
Entrance fees unless otherwise stated