Iceland Ring Road & Hiking Tour
Outdoorsy travelers will be in their element on this 12-day hiking and sightseeing adventure. You will explore stunning trails, hike on a glacier, and immerse yourself in the rich Icelandic culture.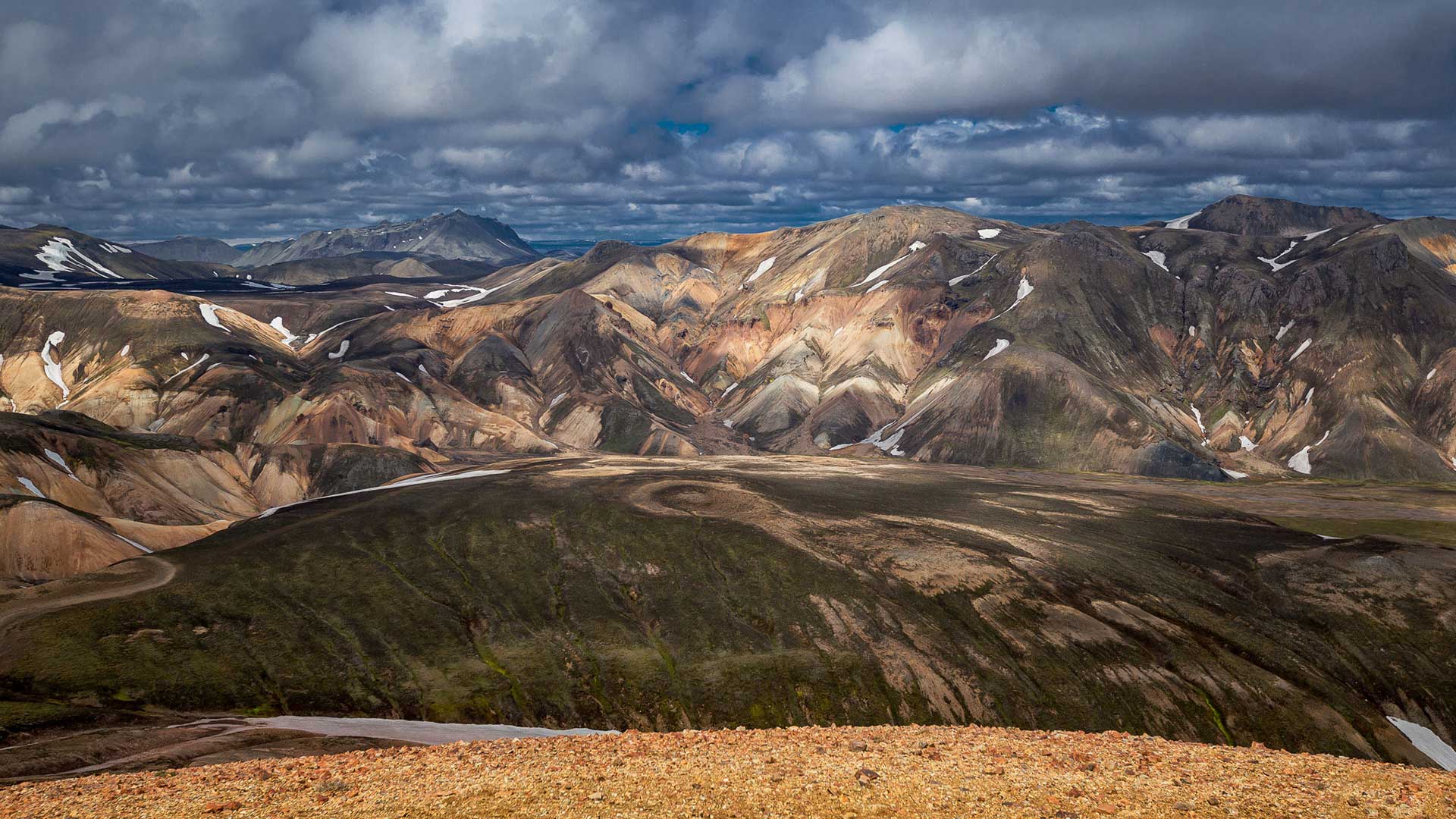 What you'll experience.
The Iceland Ring Road & Hiking Tour is an exciting 12-day self-drive adventure. This road trip will take you to all the major attractions of Iceland and the spectacular hiking trails that get overlooked by the majority of tourists. 
You check out crashing waterfalls, visit the world-famous glacier lagoon, and explore a sparkling glacier with an experienced guide. In addition, you will be able to hike stunning trails by yourself, with help from the detailed maps and advice that we provide you with. 
You will also have the chance to go whale watching, visit tiny fishing villages, taste beer at local breweries and soak in wild hot springs. Suggested hikes include the spectacular Stórurð canyon in the magical East fjord and the Landmannalaugar highland trails, but you can choose the perfect hikes for you!
Please note that adding optional activities will change the itinerary slightly. We will send over your personalized, detailed itinerary once the booking has been confirmed.
To request a price quote for this tour, please fill out the booking inquiry, and we will send you a price quote based on your preferences.
If you are planning on driving in Iceland during winter, between September and May, we highly recommend choosing a 4×4 vehicle for your safety and to make your vacation more enjoyable. The weather in Iceland can change suddenly and you could encounter snow or sleet. Some roads are also not accessible for smaller vehicles but can be reached on 4×4´s.
To ensure your safety on our self-drive tours in Iceland, we only provide 4WD cars from 1st of October through March, due to possible snow, sleed, and other hazardous road conditions.
Included in rental rate
Unlimited mileage
CDW (Collision Damage Waver)
SCDW (Super Collision Damage Waver)
GP (Gravel Protection. Includes damages to windscreens, headlights and the car)
TP (Theft Protection)
Extra driver option
4G WiFi with unlimited data to stay connected during your tour
VAT 24%
Not included in rental rate
Can be added in the booking process
Liability waiver for carefree travelling
Small car: 3.290 ISK per day
Medium/Large car: 3.890 ISK per day
GPS navigation system
Some cars have free GPS systems on board
1.550 ISK per day
SAAP (Sand and Ash Insurance)
Recommended for those travelling the south coast.
Rates depend on the size of the rental car.
Baby seat
0 – 13 kg 4.000 ISK per rental
Child seat
15 – 36 kg 4.000 ISK per rental
You can choose from three main categories of accommodations in the booking request process, comfort, quality, and luxury. Breakfast is included in all categories.
Comfort
This includes rooms with private bathroom and shower, in hotels and guesthouses.
Breakfast is included.
Quality
This includes rooms with private bathroom and shower, in 3 — 4 star hotels or the best available in the area.
Breakfast is included.
Luxury
This includes rooms or suites with private facilities, in luxury accommodation. Please note that this category has very limited availability and is not available in all parts of Iceland.
Breakfast is included.
Day 1
Welcome to Iceland! You will pick up your rental car right at Keflavík airport, so you don't have to worry about a thing. Once you've loaded up the car with your luggage, you'll head South towards Grindavík on the Reykjanes peninsula. You might want to stop by at the world-famous Blue Lagoon, but you'll have to get tickets well in advance. Just let us know if you'd like us to arrange this for you! Your accommodation will be in the greater Selfoss area tonight, home to pristine, rivers, mighty glaciers, and thundering waterfalls. 
Km driven: 110
Day 2
You'll ease in gently to your hiking adventure with an easy walk to a gorgeous geothermal river. First, you'll drive to Reykjadalur valley just north of the village Hveragerði. From here, you can hike up the geothermal river and soak in the warm water beneath the open sky. Breathe in the mountain air and let your aches from the journey melt away. Once you peel yourself out of the water, you will check out the spectacular Golden Circle. 
You will visit the rift valley at Þingvellir National park, where the North-American and Eurasian tectonic plates are drifting apart before your very eyes.  Adventurous souls can take an optional snorkeling trip through the crystal clear waters of the Silfra fissure, the only place in the world where you can swim between tectonic plates. Afterward, you will check out the explosive Strokkur hot spring in Haukadalur valley before heading to the picturesque Gullfoss waterfall. Your accommodation for the night will be in the Hella area.
Km driven: 190
Day 3
Make sure you eat a hearty breakfast this morning because you'll be needing your energy! You will drive to Landmannalaugar geothermal area in the highlands, one of the most surreal sights in Iceland. On the way to Landmannalaugar, you can make a stop at the beautiful Þjófafoss waterfall. The drive is gorgeous. You will pass by colorful mountains and active volcanoes, so don't hesitate to pull over safely and soak up the You will spend the majority of your day hiking the many trails in the area. Don't worry; you can choose the perfect trail for your energy levels. Afterward, you can relax in the warm river that runs through the Reykjadalur valley before heading back to your accommodation. Once again, you will spend the night in the Hella area.
Km driven: 245
Day 4
After breakfast, you will head to the stunning Seljalandsfoss waterfall. This isn't the most powerful waterfall in Iceland, but you can walk right behind the cascading water for a unique perspective of the crashing water. Don't forget to check out the neighboring waterfall called Gljúfrabúi, which is tucked away in the stunning gorge.
Take some time to relax at Seljavallalaug, Iceland's first public swimming pool. After swimming amongst the lush green hills, you will drive to Skógafoss waterfall to enjoy a panoramic view from above. Next, you'll head to Sólheimasandur black sand beach, where you can walk to the famous plane wreck before heading to the mighty basalt columns at  Reynisfjara. Your accommodation will be in the Vík area, renowned for its volcanic sands, sparkling ice caves, and visiting puffins. 
Km driven: 170
Day 5
Now you've had time to explore the wonders of Iceland, it's time to do some serious hiking. You will start your day by driving to Þakgil canyon. This remote campsite is located right next to the volcano Katla in Mýrdalsjökull glacier. You can hike one of the many hiking trails in the area and get a fantastic view of the glacier. Afterward, you will make your way back to the ring road and head to the breath-taking Fjaðrárgljúfur canyon. After soaking up the spectacular view, you will head to the town of Kirkjubæjarklaustur. There you can visit Systrafoss waterfall before making your way toward Skaftafell, where you will sleep tonight. If you still have any energy, you can hike to the stunning Svartifoss waterfall located nearby. The basalt columns are so impressive! Otherwise, just relax in the gorgeous Skaftafell mountains; you've earned it!
Km driven: 190
Day 6
You will start your day with a short hike to the beautiful Svartifoss waterfall. The path is well maintained, and it should only take you two hours to do the route. If you're looking for more of a challenge, you can tackle one of the more challenging trails in the area today. Whether you're looking for something moderate or a grueling day hike to the knife-edge ridges, one of the trails at Skaftafell will be perfect for you! Afterward, you will drive to the gorgeous Jökulsárlón glacier lagoon. Admire the icebergs float across the lagoon towards the open ocean before heading out onto the glacier with an experienced glacier guide. Finally, with aching legs and some unforgettable memories, you will proceed to Höfn for a well-earned rest. 
Km driven: 200
Day 7
The South Coast of Iceland is extremely popular with tourists, and with good reason! But today you will leave the crowds behind and enter the vast mountains of the East Fjords. First, you will drive towards the town of Djúpivogur which is a part of the Cittaslow movement. This friendly town emphasizes human happiness and environmental protection, and you'll have the chance to explore the artwork and collections of the creative locals. 
Next, you'll drive on to Breiðdalsvík, a tiny fishing village with only 140 residents. (Yes, you read that right!) You can take an optional visit to the local brewery, Beljandi, for a taste of locally made craft beer. Next, you'll have the chance to visit Petra's world-famous stone & mineral collection at Stöðvarfjörður. Keep driving through the beautiful fjords onward to the charming village of Fáskrúðsfjörður, where you can visit the Aurora Museum. After a fascinating day of cultural immersion, you will pass through Reyðarfjörður to your accommodation around Egilsstaðir. 
Km driven: 250
Day 8
Now that you're acquainted with the Icelandic people, it's time to meet our gentle giants. This morning you will drive North towards Húsavík, the whale watching capital of Iceland. On your way, you can make a stop at the awe-inspiring Dettifoss, possibly the most powerful waterfall in Europe. You'll also get the chance to explore the beautiful Ásbyrgi canyon, which is packed with lovely hiking trails for you to choose from. When you arrive in Húsavík, we highly recommend that you go on a whale-watching tour to visit the white-beaked dolphins, minke whales, and humpbacks in their wild home. Just let us know if you want help arranging tickets for this; we'll be happy to assist. You will sleep in Husavík tonight. 
Km driven: 250
Day 9
You've got some distance to cover today, but your drive is going to be ridiculously scenic. After breakfast, you will head to Mývatn lake, famous for its natural beauty and diverse wildlife. Depending on how tired you are, you can choose a hiking trail that feels right for you. Once you've explored the volcanic craters and lava flows,  you can visit the geothermal area by Námafjall and soak in the gorgeous Mývatn Nature Baths. These peaceful hot springs are less touristy than the better-known Blue Lagoon. Just let us know if you'd like to go to these hot springs, and we can help you arrange your tickets. 
Next, you head to Akureyri, the capital of North Iceland. On your way, you will make a stop at Goðafoss, one of the most beautiful waterfalls in Iceland. You can visit the famous church while you're here, or just enjoy a hot drink in one of the bustling coffee shops. Later you'll drive to the Tröllaskagi peninsula, a spectacular mountainous region famous for its world-class off-piste skiing. You might like to stop at the open-air swimming pool in Hofsós, which is built right into the gorgeous hillside. You'll spend the night in Varmahlíð, a small village in the shadow of the mountains. 
Km driven: 370
Day 10
Today you will make your way South. You will head straight to the Borgarfjörður area to soak up the Hraunfossar and Barnafoss waterfalls. The waters around this peaceful fjord seem calm, but powerful currents are churning beneath the surface. You'll look out across the tiny uninhabited islands, which are home to 10,000 pairs of Atlantic Puffins in the summer months. You can also take a short hike to Mt. Grábrók today, which you will find near Bifröst. Your efforts will be rewarded by an amazing view over the volcanic crater. Once you get to Húsafell, you might like to take an optional excursion into the man-made ice cave in Langjökull glacier. 
You could also go caving in the vast lava tunnel called Víðgelmir. This ancient volcanic cave is teeming with ice formations, and the high ceiling makes it much less claustrophobic than some of the caves in Iceland. Let us know which activities you're interested in, and we can arrange this for you when you book. You will spend the night in the Húsafell/Reykholt area.
Km driven: 250
Day 11
After breakfast, you will make your way to Reykjavík where you will spend your final night. Don't worry, there's still time to squeeze in a couple more adventures before you leave. You will drive the Hvalfjörður fjord, where you can go for a hike to Glymur, Iceland's highest waterfall. You can also make a stop at the old whaling station before heading to Reykjavík. 
Once in the capital, you can choose your activities for the rest of the day. Perhaps you'd like to go out on another whale watching tour. Otherwise, you could visit the local brewery, visit some museums or take a guided walking tour. Or maybe you just want to head out for a good hearty meal and reflect on all the amazing things you have seen and done over the last 11 days. 
Km driven: 145
Day 12
Your visit to Iceland has come to an end, but you will always be welcome to come back again. You will return your rental car at Keflavík International Airport, before heading to your gate for your onward journey. We wish you a safe trip home!
Km driven: 50
Included in final tour price
Accommodation for 11 nights with breakfast
4×4 rental car of your choice for 12 days including CDW, SCDW, TP, GP, Extra driver, 4G Wifi dongle with unlimited data and VAT 24%
Detailed personal itinerary
Carbon offsetting (18 trees planted)
Taxes and service fees
Personal and professional service
Guided glacier hike on one of Iceland's ice cap glaciers
Not included
Flight to/from Iceland
Personal travel insurance
Gasoline/petrol, road tolls and parking fees
Meals and drinks beside breakfast
Entrance fees unless otherwise stated
Optional activities listed in booking request process