Iceland Ring Road and Snæfellsnes Peninsula
Discover the hidden gems of Route 1 and explore the breathtaking Snæfellsnes peninsula on this unforgettable two-week tour.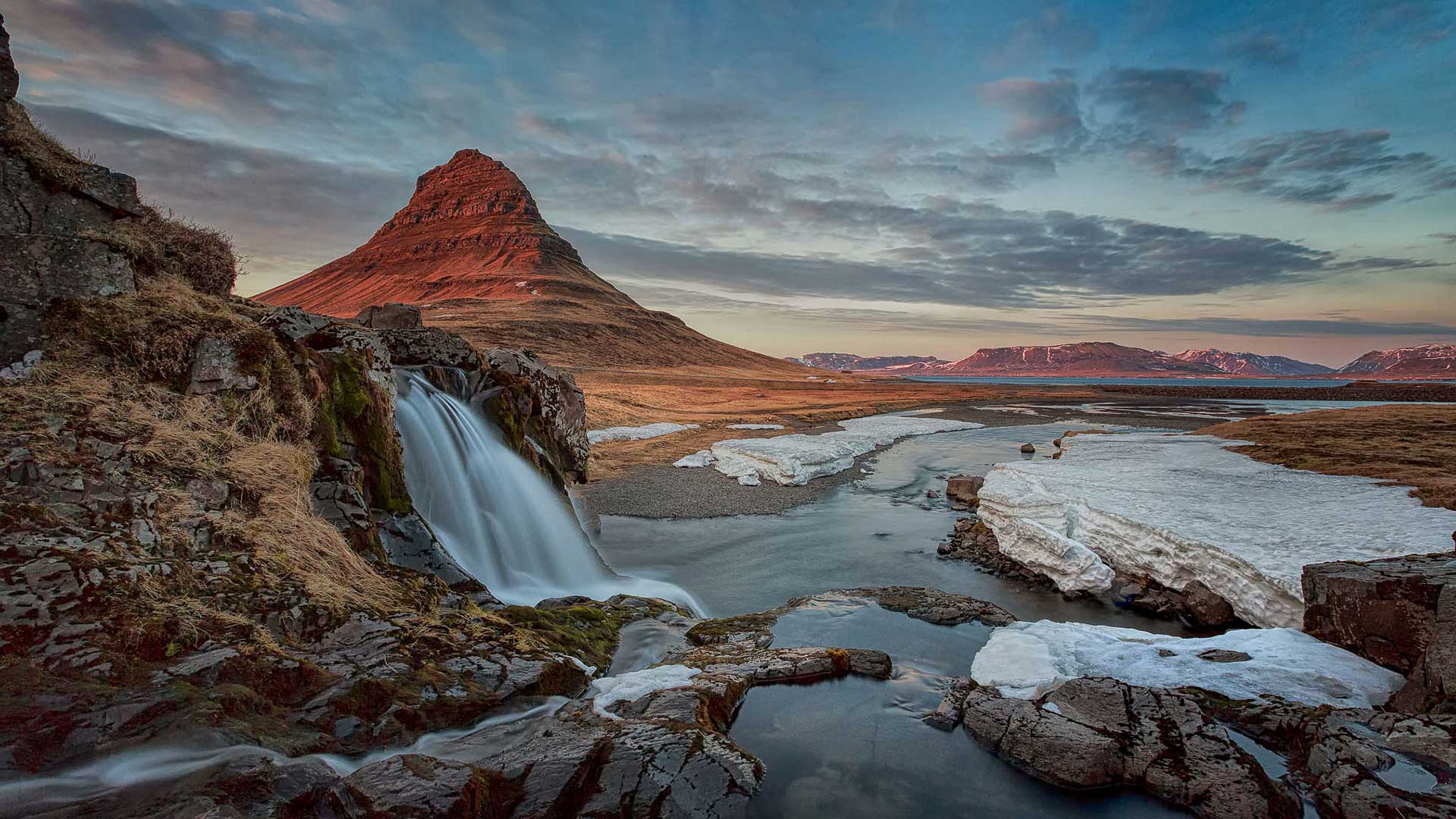 What you'll experience.
Delve deeper into the real Iceland on this 14 day/13 night self-drive tour. You will have plenty of time to discover the iconic attractions along the Ring Road and explore the spectacular Snæfellsnes peninsula. 
Highlights of this Iceland Ring Road tour include the Golden Circle, stunning waterfalls, and sparkling glaciers. You'll get the chance to walk along black sand beaches, hike up to mountain ridges, and explore the ancient lava caves.  
When you aren't exploring Iceland's wild landscapes, you'll be kicking back in natural hot springs or getting acquainted with the glittering icebergs. A self-drive tour takes all the hassle out of organization, without forcing you to sit on a crowded tourist bus!
Please note that adding optional activities may change the itinerary slightly. We will provide a personalized itinerary with all the details once your booking has been confirmed.
To request a price quote for this tour, please fill out the booking enquiry, and we will send you a price quote based on your preferences.
If you are planning on driving in Iceland during winter, between September and May, we highly recommend choosing a 4×4 vehicle for your safety and to make your vacation more enjoyable. The weather in Iceland can change suddenly and you could encounter snow or sleet. Some roads are also not accessible for smaller vehicles but can be reached on 4×4´s.
To ensure your safety on our self-drive tours in Iceland, we only provide 4WD cars from 1st of October through March, due to possible snow, sleed, and other hazardous road conditions.
Included in rental rate
Unlimited mileage
CDW (Collision Damage Waver)
SCDW (Super Collision Damage Waver)
GP (Gravel Protection. Includes damages to windscreens, headlights and the car)
TP (Theft Protection)
Extra driver option
4G WiFi with unlimited data to stay connected during your tour
VAT 24%
Not included in rental rate
Can be added in the booking process
Liability waiver for carefree travelling
Small car: 3.290 ISK per day
Medium/Large car: 3.890 ISK per day
GPS navigation system
Some cars have free GPS systems on board
1.550 ISK per day
SAAP (Sand and Ash Insurance)
Recommended for those travelling the south coast.
Rates depend on the size of the rental car.
Baby seat
0 – 13 kg 4.000 ISK per rental
Child seat
15 – 36 kg 4.000 ISK per rental
You can choose from three main categories of accommodations in the booking request process, comfort, quality, and luxury. Breakfast is included in all categories.
Comfort
This includes rooms with private bathroom and shower, in hotels and guesthouses.
Breakfast is included.
Quality
This includes rooms with private bathroom and shower, in 3 — 4 star hotels or the best available in the area.
Breakfast is included.
Luxury
This includes rooms or suites with private facilities, in luxury accommodation. Please note that this category has very limited availability and is not available in all parts of Iceland.
Breakfast is included.
Day 1
The adventure begins! Today you will pick up your rental car right at Keflavík airport. Once you've got your vehicle, you'll head along the lava fields of Reykjanes peninsula towards Reykjavik. Depending on your arrival time, you might want to explore the small and buzzing capital before checking into your hand-picked accommodation. Let us know about your travel plans, and we can help you plan the perfect welcome to Iceland. 
Km driven: 50
Day 2
After a good night's rest in your accommodation, you will head across Hellisheiði towards the village of Hveragerði. Look out for the volcanic steam plumes that pour into the air!
You can take an optional tour of the Hellisheiði geothermal power plant, where you'll learn how Iceland warms its homes and greenhouses by harnessing the power of nature. When you arrive in Hveragerði, you will take a short hike in Reykjadalur valley.
Don't forget your swimsuit, because you'll get the chance to bathe in the hot river beneath the open sky. Next, you'll check out the natural wonders of the world-famous Golden Circle. Those that want to can snorkel through the Silfra fissure, in the crystal clear waters between two continental plates. 
Otherwise, you can enjoy Þingvellir National from dry land, before visiting the explosive hot spring called Strokkur and then stopping at the gorgeous Gullfoss Waterfall. Your accommodation tonight will be near Hella.  
 Km driven: 263
Day 3
After a good night's sleep in your comfortable accommodation, you'll make your way down to the beautiful South Coast. You'll drive past countless black sand beaches on the one side and ice-capped volcanoes on the other. 
Your first stop will be at Seljalandsfoss waterfall, where you can walk right behind the crashing glacial waters. You can then proceed to Skógafoss waterfall, just a short drive away. You can't walk behind this one, but you'll be blown away by its power!
Your journey will take you past Eyjafjallajökull glacier, renowned for the volcanic eruption that stopped the world in 2010. Next up, you'll walk along the black sand beach of Sólheimasandur to visit the famous plane wreck. If you want to go for a glacier hike or ice climb on the way, just let us know! 
The final stop of the day will be the volcanic beach of Reynisfjara. You'll feel tiny as you visit the mighty basalt sea stacks and towering cliffs of Dyrhólaey. Your accommodation for the night will be around the Vík / Kirkjubæjarklaustur area. 
Km driven: 150
Day 4
Wrap up warm today because you're heading to the icy waters of Jökulsárlón glacier lagoon. You will watch magnificent icebergs crumble from the Vatnajökull glacier and slowly float towards the North Atlantic Ocean. On the way, you can stop at the beautiful area of Skaftafell for a 2-hour hike up to Svartifoss waterfall, surrounded by glittering basalt columns. 
Once you're at the glacier lagoon, you might want to take a boat trip to see the icebergs even closer. You could also strap on some ice boots and head out for a hike on the glacier with a certified guide. Just let us know what sounds interesting to you, and we can arrange things exactly how you want them. 
There is a smaller, less touristy glacier lagoon called Fjallsárlón just a few kilometers south of Jökulsárlón. For people that like their peace and quiet, you might want to visit this one instead! To end the day, you'll head East to your accommodation in the charming village of Höfn 
Km driven: 205
Day 5
The South Coast is very popular with tourists, and with good reason! But today, you will leave the crowds behind and set out for the wild mountains of the East Fjords. You can make a stop at the town of Djúpivogur, which is a part of the Cittaslow movement. Environmental and social values are fundamental here, and you'll find all kinds of local art exhibits to check out. 
After exploring this friendly town,  you will drive to a tiny fishing village called Breiðdalsvík. We can arrange for you for a trip on a small fishing vessel if you would like, or you can head straight to Stöðvarfjörður to see Petra's world-famous stone and mineral collection. 
Once you've soaked up the incredible natural treasures, you'll head to Fáskrúðsfjörður, where you will stay for the night. You can stretch your legs in the charming streets of this little fishing village and take a look at the Auroras Iceland Museum.
Km driven: 210
Day 6
The great thing about a longer trip like this is you will have a chance to explore the rugged highlands of East Iceland. Today you will drive from Fáskrúðsfjörður towards Egilsstaðir and then head to Snæfell. We recommend you stop off at the Skriðuklaustur center of culture and history and the Snæfellsstofa visiting center. The Skriðuklaustur center was the mansion home of a famous Icelandic writer, but he donated it to the Icelandic people so they could have a cultural center. You'll also find the ruins of a medieval monastery on the site!
It's sometimes possible to see wild reindeer from the road, so keep your eyes peeled as you journey through the Eastern Fjords. You'll be covering a fair distance today, so make sure you stop at Laugafell mountain cabin for a cup of coffee and a dip in the geothermal pools. 
Suitably refreshed after your journey, you'll head to your accommodation in the Egilsstaðir area. 
Km driven: 290
Day 7
That's week one of your adventures finished, but you've still got plenty of time to discover what the rest of Iceland has to offer. You'll start the day with a visit to the mighty waterfall called Dettifoss, but you can stop off at the "haunted" church of Möðruvellir on the way. 
After your stop at Dettifoss, you will visit the horseshoe canyon called Ásbyrgi. Some short and easy hiking trails take you through the magnificent landscape.  Once you've stretched your legs in the canyon, you'll proceed to Husavík, the whale-watching capital of Iceland. 
You can take a boat tour to see the minke whales, white-beaked dolphins, and humpbacks in the wild. You can also check out the whale museum to learn more about ancient Icelandic culture, or take a riding tour on one of Iceland's famous horses. Just let us know what you'd like to do today, and we will make sure you get booked in. You're sleeping in Húsavík tonight, so you've not got far to go this evening. 
Km driven: 250
Day 8
Yesterday was pretty packed, so you can take it a bit easier today. Enjoy a leisurely breakfast at your accommodation before heading to the beautiful lake called Mývatn. This area is teeming with wild birds, and it's home to the active volcano called Krafla. Depending on how tired you feel, you can choose a short or longer hike by the lake. You could also visit the Jarðböðin Nature bath, far more peaceful than the better-known Blue Lagoon. 
After soaking in the hot water with mountains all around, you'll head to the beautiful waterfall called Goðafoss. This stunning location is shrouded in myths and legends, and it's not hard to see why! You'll stay in Akureyri tonight, where you can organize a whale-watching tour if you didn't fancy it the day before. 
Km driven: 150
Day 9
Today's journey will take you off the beaten track to the Tröllaskagi peninsula. This wild mountain range is named after the mythical trolls that the early Icelanders believed lived here. It's also home to some world-class off-piste skiing and spectacular mountain trails for hiking lovers to discover. 
You'll be driving through the kind of scenery that ends up on postcards, with the chance to stop at traditional fishing villages along the way. Apart from the occasional tiny settlement, this isolated fjord is largely untouched by human activity. Don't forget to stop and soak up the incredible views here and there, before you arrive at your accommodation in the Skagafjörður area. 
Km driven: 185
Day 10
This morning you will head to Vatnsnes peninsula, home to the sea stack called Hvítserkur. Due to its unusual shape, legend has it that the rock formation is a petrified troll that got caught in the sun. Other people say that the rock looks just like a dragon drinking from the ocean, so you'll have to decide which it is for yourself! 
Next, you will head to the Snæfellsnes peninsula. This breathtaking National Park is known as "miniature Iceland" because there are so many incredible natural wonders in one place.  You can take a boat trip from Stykkishólmur, where the crew will feed you scallops and sea urchins straight from the ocean. You could also go on a caving expedition to  Vatnshellir cave near the small village of Hellnar. As you descend the spiral staircase into the earth, you'll discover the vivid colors that were created as the lava cooled. 
We will arrange the activities that work best for you, so don't forget to specify your preferences when booking! You will be staying in the Snæfellsnes area for the night.
Km driven: 310
Day 11
After waking up in the gorgeous Snæfellsnes area, you will load up the car and head on to Borgarfjörður. You will have the chance to explore Reykholt and Húsafell, home to lava fields, hot springs, waterfalls, caves, and glaciers. You'll be heading back towards the city tomorrow, so take all the time you need to explore the natural wonders of the land of Fire and Ice. 
Km driven: 185
Day 12
It's time to leave the countryside behind, but there are still plenty of things for you to discover. On the way to Reykjavík, you will drive along the magnificent Hvalfjörður fjord, and you can also hike to Iceland's highest waterfall, called Glymur. 
After the steep hike up Glymur, you've earned a good rest. You can go for a beer tasting session in Reykjavík or head out on a short wildlife watching trip from the harbor. After a hearty dinner, you can explore the nightlife of the capital or collapse straight into your soft bed at your accommodation. 
Km driven: 140
Day 13
Today you can explore Reykjavík at your own pace. We recommend a trip to the Blue Lagoon, which is only about a 30-minute drive away from the city. This world-famous volcanic spa is extremely popular, but tickets are limited to make sure the guests can thoroughly enjoy the experience. That's excellent news for the visitors, but it means you need to book tickets well in advance. We can do this for you!
Day 14
Sadly, it's time to say goodbye to Iceland. You will drive to Keflavík airport to drop off your rental car, then head to the gate with your well-traveled luggage. We wish you a safe journey home, and we hope to welcome you back one day in the future. 
Km driven: 50
Included in final tour price
Accommodation for 13 nights with breakfast
Rental car of your choice for 14 days including CDW, SCDW, TP, GP, Extra driver, 4G Wifi dongle with unlimited data and VAT 24%
Detailed personal itinerary
Carbon offsetting (16 trees planted)
Taxes and service fees
Personal and professional service
Not included
Flight to/from Iceland
Personal travel insurance
Gasoline/petrol, tunnel and parking fees
Meals and drinks beside breakfast
Entrance fees unless otherwise stated
Optional activities listed in booking request process