Seljalandsfoss: The Complete Guide
Seljalandsfoss is a unique and beautiful waterfall near the South Coast of Iceland. 
This is one of the very few places in the world that you can safely walk behind a crashing waterfall. From this unusual perspective, you will be covered in a fine mist of glacial meltwater that comes flowing down from the Eyjafjallajokull ice cap. 
Seljalandsfoss is not as powerful as the bigger waterfalls like Gullfoss and Dettifoss. But it is dramatic in its own way! It is 65 meters high, with its glacial waters falling over ancient sea cliffs before plunging into a deep pool. 
Over time, the coastline of Iceland has shifted. The ocean is now a few kilometers away from the waterfall. 
Within easy walking distance from Seljalandsfoss, there is another stunning waterfall called  Gljúfrabúi. Hiding amongst the narrow canyon walls, you have to cross a stream to get there. It is worth it, and this 'secret waterfall' shouldn't be missed by people visiting Seljalandsfoss when the weather conditions are appropriate. 
From driving directions to staying safe to what to wear to, this article will tell you everything you need to know about visiting Seljalandsfoss and Gljúfrabúi.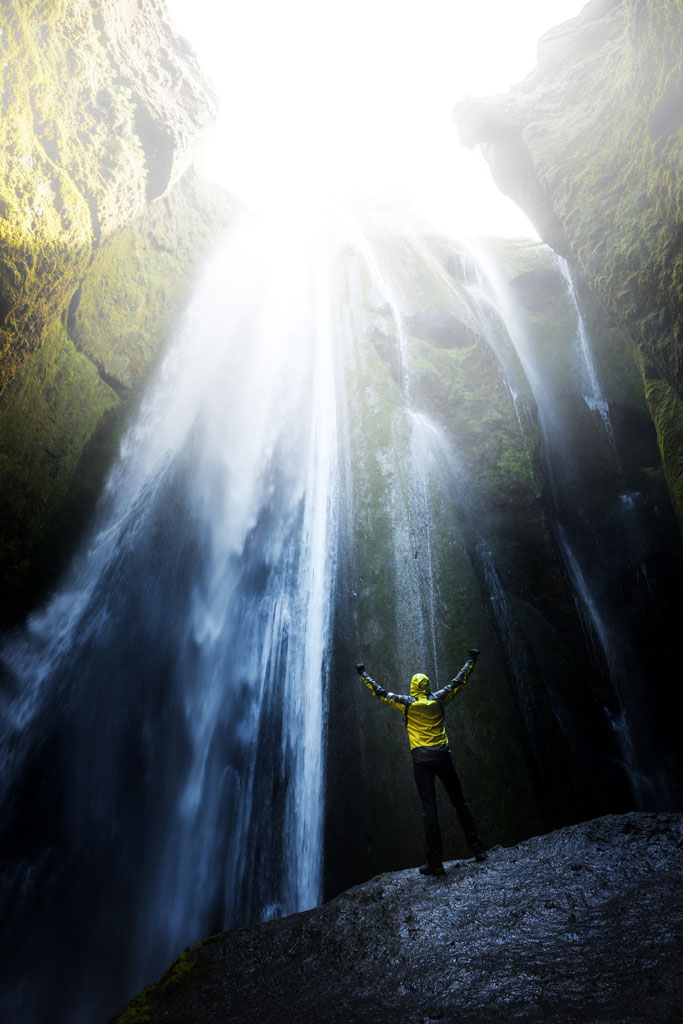 THIS MIGHT INTEREST YOU
NORTHERN LIGHTS, SOUTH COAST & THE WILD WEST
LEARN MORE
How To Get To Seljalandsfoss
We recommend that you visit Seljalandsfoss as part of a self-drive tour. 
This way, you can come outside of the busiest times of day when the tour buses are coming and going. It will also give you the freedom to enjoy the waterfall at your own pace, without feeling rushed or slowed down by a large group setting. 
The other benefits of a self-drive tour are that they are cheaper, the itinerary is already planned out for you, and you will still have the safety net of professional support if you feel you need it. 
However, group tours can be a great option for people that don't feel comfortable driving in Iceland. Seljalandsfoss is often included as part of a South Coast and Glacier Lagoon organized tour. 
You should expect a group tour to be more expensive, but many people enjoy the social aspect of an organized tour and the feeling of safety associated with a local guide on hand to lead the way. 
Driving Directions to Seljalandsfoss
If you decide to go with a self-drive tour, you will pick up your rental car on arriving in the country. 
Seljalandsfoss is conveniently located just 5 minutes off the main Ring Road, so it's a wonderful stop off on an epic road trip of Route 1. 
If you are driving from Reykjavik capital city, the journey is about 125 km long and will take you 1 hour and 40 minutes. In winter it may take longer than this, due to frequent snow and strong winds. 
From Reykjavik, you will take the Ring Road (Route 1) South to Selfoss. You will then continue East on Ring Road, going through the towns of Hella and Hvolsvollur until you can see Seljalandsfoss on your left. 
You should be able to find Seljalandsfoss on your sat nav or mobile maps without any problems. 
THIS MIGHT INTEREST YOU
ICELAND RING ROAD, SLOW & STEADY
LEARN MORE
Facilities at Seljalandsfoss 
The facilities at Seljalandsfoss are nowhere near as developed as the facilities at Gullfoss or Geysir Geothermal area. There are enough basic facilities to meet your needs during a visit. 
There are some toilets, a small gift shop, and a simple walk-up cafe, in the style of a food truck.  
If you want to save money by bringing your food along with you, the waterfall is surrounded by green grass and wildflowers so it's a lovely place to have a picnic. Please make sure that you don't leave any litter behind, to ensure that Seljalandsfoss remains unspoiled. 
For more ideas about saving money during your trip to Iceland, you can check out this article. 
Parking costs 700 IKR (around 5 USD) for 24 hours. Normally, people don't spend much more than an hour here. 
What to Wear To Seljalandsfoss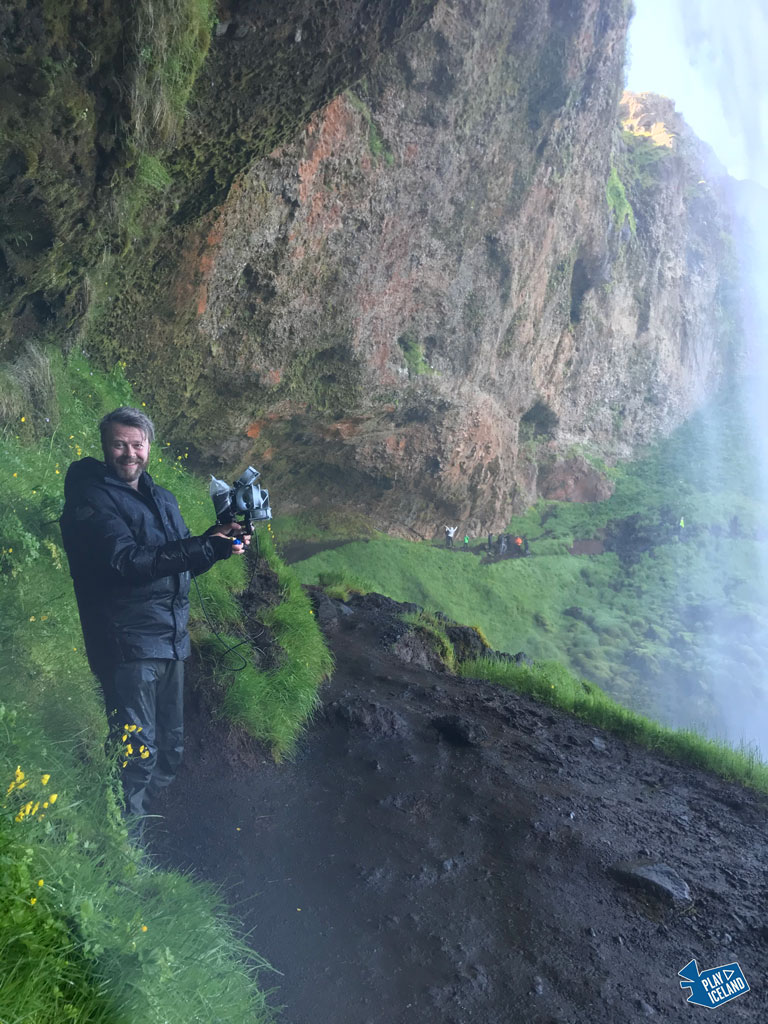 If you want to walk behind Seljalandsfoss, you will soon find yourself soaked in the waterfall mist. 
We recommend that you wear both a waterproof coat and waterproof trousers if possible. If you don't have waterproof trousers, it's a good idea to bring a set of dry clothes in the car with you just in case you get too damp to be comfortable. 
The mist also makes the steps and path around the waterfall quite slippery. 
You will want good quality outdoor shoes with a strong grip to prevent any slips. If you struggle at all with your mobility, we would recommend a walking stick as well to keep you balanced.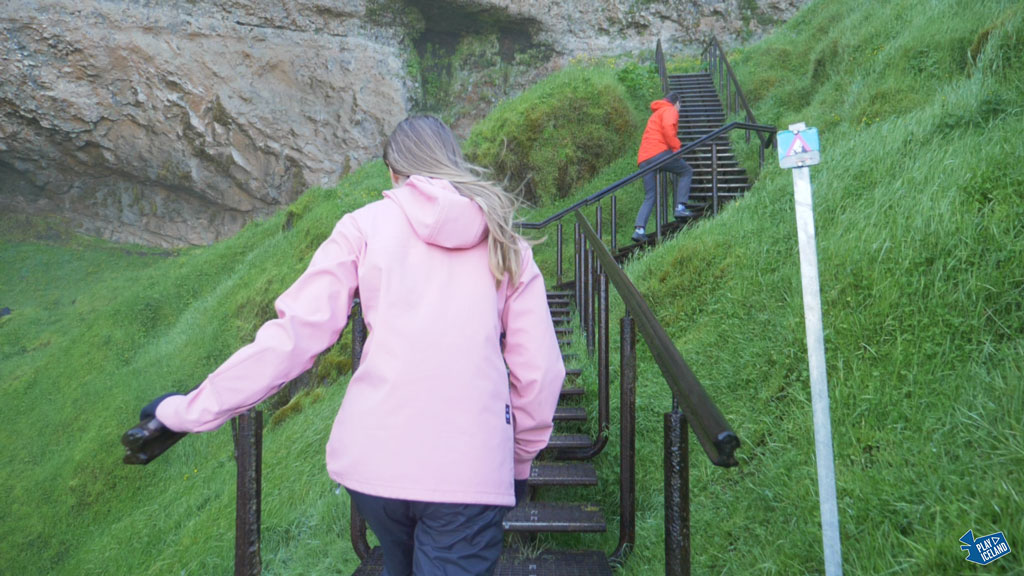 In the winter, people often fall over on the path to the waterfall. The viewing decks get very icy and it's dangerous to try and walk on these icy areas without crampons on your shoes. 
Crampons are a metal plate with spikes on them that you attach to your shoes to give you a really good grip in wintery conditions. You don't need to be walking on a glacier to use them. 
Lots of people use them when visiting waterfalls in the wintertime or even just to give them better balance when walking around the streets of Reykjavik. 
You could either buy Crampons online and bring them with you, buy them in Iceland (but they will be more expensive), or just hire them in Iceland if you don't think that you make much use of them in the future. 
People normally hire them from camping shops in one of the big cities before heading into the countryside. There are only 2 really big cities in the whole country (Reykjavik and Akureyri), so make sure you hire them before heading towards the smaller settlements. 
If you go with an organized tour in the wintertime, your tour guide will probably have crampons available for you to borrow at no extra cost. The best thing you can do is check with your chosen tour company when booking. 
If you decide to head over to see 'the secret waterfall', you should bring spare socks and shoes. You have to walk over stepping stones in a small river, and people often get their feet wet on the way over. 
THIS MIGHT INTEREST YOU
ICELAND RING ROAD AND SNÆFELLSNES PENINSULA
LEARN MORE
How To Get to Gljúfrabúi
It would be such a shame to miss out on seeing Gljúfrabúi when you are at Seljalandsfoss.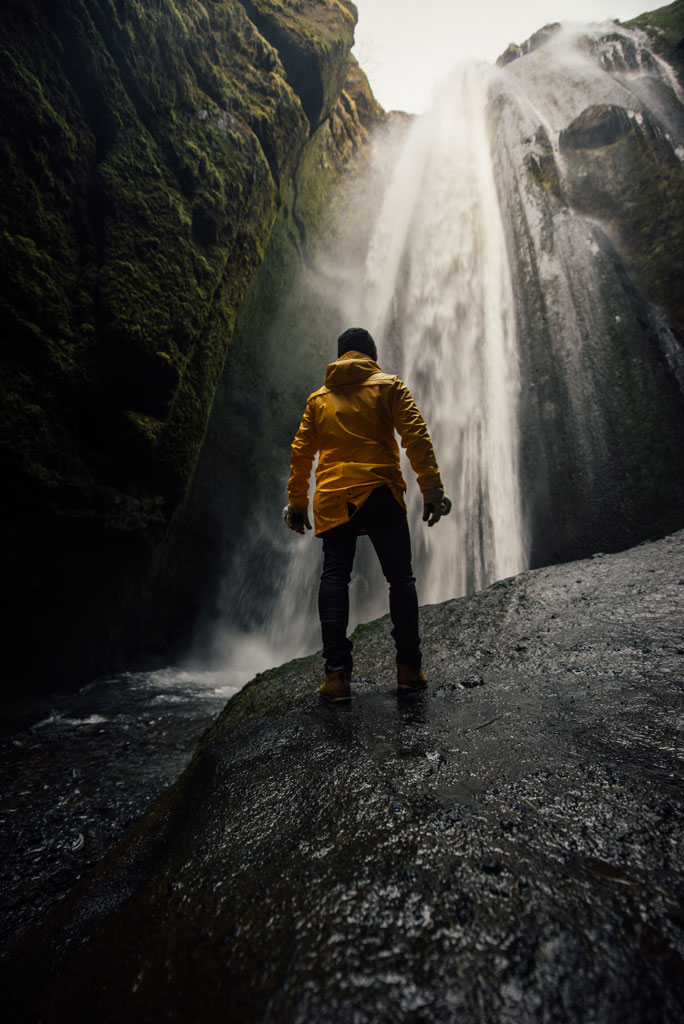 This lovely waterfall is 40 meters high, and the only way to get there is to cross a stream on stepping stones. There used to be a path in the hills around the waterfall, but this has now been closed to protect the flora and fauna. Please respect these closures, and go through the stream if you want to see Gljúfrabúi. 
You'll need shoes with a very good grip to stop you slipping on the wet rocks, and it's never a good idea to attempt this walk in winter without crampons. 
You will be able to see the water falling through the narrow canyon walls from a distance, but it's also possible to walk through the tight space in the rock to get closer. 
Although Gljúfrabúi is nicknamed the secret waterfall, the secret is very much out. 
The small chamber by the waterfall is filled with people even in the wintertime. In summer it will be very hard to see it without a crowd. 
Your best chance to have 'the secret waterfall' to yourself is to come very early or very late in the day, outside of the time that organized tours are running. If you can enjoy this waterfall in the peace and quiet, you will feel like you have entered another world.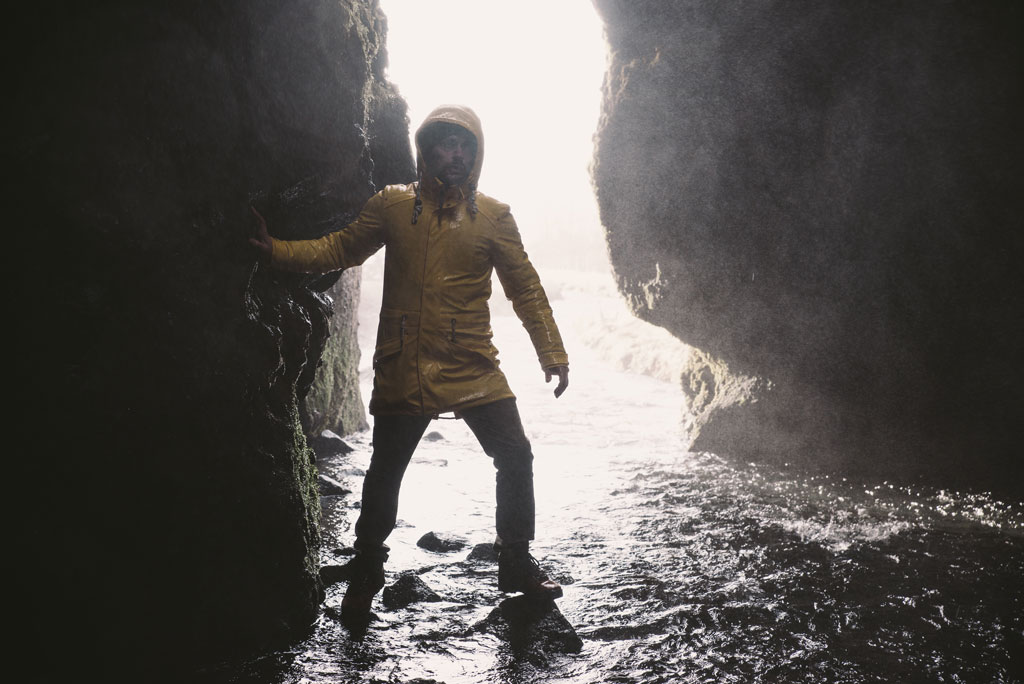 Insider Tip: make sure you bring some spare socks and shoes if you decide to walk over to Gljúfrabúi because there is a good chance you will end up stepping in the stream!
What time of Year To Visit Seljalandsfoss and Gljúfrabúi 
There are benefits to visiting the waterfalls at any time of year.

In summer months, the ground is a lot less slippery. You won't need to wear crampons and the temperature will be much milder. The midnight sun picks out gorgeous rainbows in the waterfall mist and there's much less risk that the path underneath the waterfall could be closed. 
The long hours of daylight mean that it's easier to enjoy the waterfall very early or later on when all the crowds from the group tours are back at their hotels.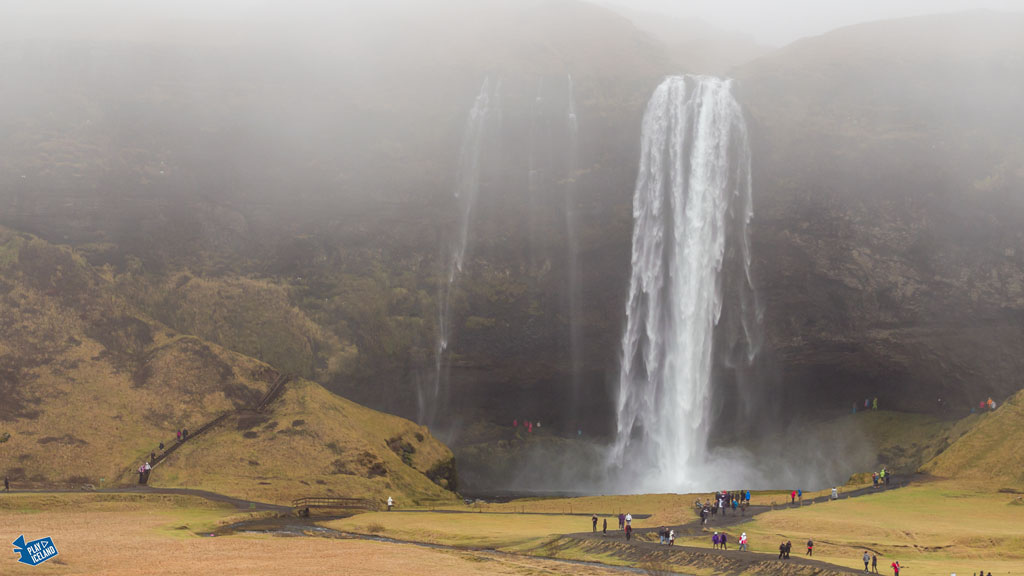 However, winter is also an extremely beautiful time to see Seljalandsfoss and Gljúfrabúi. 
The lush green landscape is transformed by ice and snow, and it feels like you are in another world. The waterfalls will be less crowded than in the summertime. There will still be quite a lot of other tourists in the winter though. 
What's more, the hours of daylight are very short. This means that people are more likely to visit in the same short window of day time. 
The good thing about the long hours of darkness is that you may have the chance to see the amazing Northern Lights. Seeing Seljalandsfoss under a colorful sky of the Aurora Borealis is something that you are never going to forget. Also bear in mind that it is lid up during darkest hours.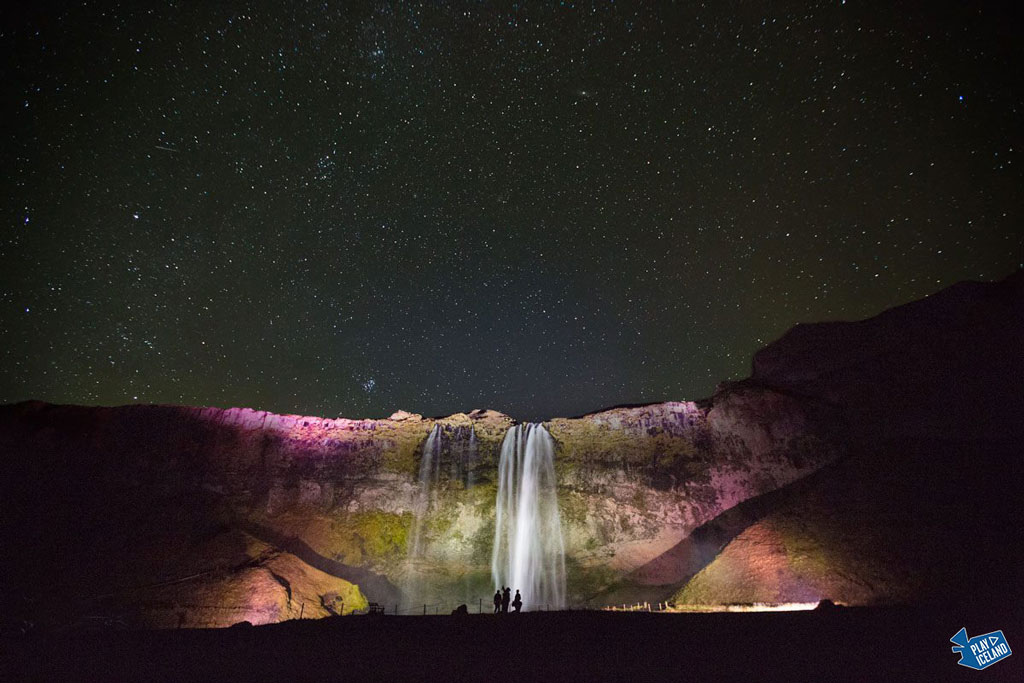 The path behind the waterfall is sometimes closed in the wintertime if conditions are too snowy and icy. This is partly to protect you from slipping, but also because dangerous icicles can break off the waterfall and wall from above. 
If the path is closed, please do not follow the minority of tourists that climb over the barriers anyway. The barriers are only ever put in place to protect your safety, or to give Iceland's flora and fauna a chance to recover. This regularly takes place at Fjarðárgljúfur canyon, to let the delicate ecosystem repair. 
After all, Iceland welcomes over 2 million visitors every year! 
This might not seem like an enormous number, but considering our population is only 350,000, it can put a lot of extra pressure on the environment. Icelanders are very happy to welcome so many visitors from around the world, but it's important that people follow designated pathways and follow any regulations whilst they are here. 
For example, wild camping in a tent or vehicle is now strictly prohibited, and you need to book into an official camping ground. Tourists are very welcome in Iceland, but the natural habitats must be protected to prevent irreversible damage. To find out more about the camping regulations, you can read our complete guide to camping. 
Don't forget to wear crampons in winter, and be very careful about crossing to Gljúfrabúi as the stepping stones can be slick with ice. You will want a warm hat and gloves with you as well.

No matter what time of year you decide to visit the waterfalls, it's a good idea to have an adult per young child if possible. Walking on the wet rocks can be a little challenging for the littlest ones!
Eyjafjallajokull volcano
Seljalandsfoss is a glacial waterfall. 
Its waters are fed by the meltwater of the Eyjafjallajokull ice cap, which sits on top of an active volcano. This volcano made big news in 2010 when its eruption interfered with international air traffic for a week.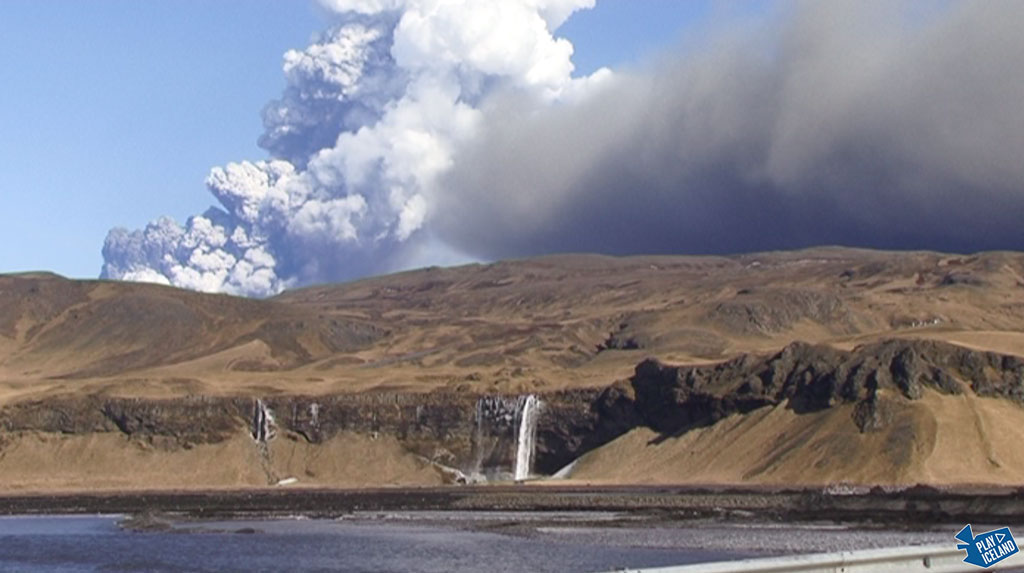 The eruption also led to flooding, because the heat of the eruption caused a lot of meltwater to flow from the icecap. Luckily, nobody died as a result of this eruption. 
Iceland is home to many different volcanoes, but human lives are rarely lost. This is because of the sophisticated early warning systems that are in place all over the country. 
The good thing about all these volcanoes is the geothermal heat that Islanders enjoy. There are countless hot springs and heated swimming pools as a result of magma close to the surface of the earth. 
Geothermal heat also meets many of Iceland's energy needs, and people even grow vegetables in greenhouses heated by the earth!
THIS MIGHT INTEREST YOU
What Else To Do In The Area
The Golden Circle Route
A visit to Seljalandsfoss is often combined with the Golden Circle sightseeing route. 
This is a world-famous road trip that can be easily completed in a day from Reykjavik. It includes some wonderful places like Thingvellir National Park, Gullfoss waterfall, and Geysir Geothermal Area. 
There are also horse parks, hot springs, volcano craters, and historical towns to check out along the route. 
Alternatively, Seljalandsfoss is a good place to stop off on the Icelandic Ring Road route. 
The Ring Road Route
The Ring Road (or Route 1) is the main road in Iceland, which goes in a huge circle around the country. It normally takes people around 2 weeks to complete the whole circuit, though it can be done in much more or much less time. 
We advise that you book a self-drive tour to do this route, and spend as long on The Ring Road as possible. 
There are so many beautiful places to stop along the way, and the more time you leave, the more hidden corners you will uncover. 
The South Coast 
If you don't have 2 weeks to spare, you could consider visiting Seljalandsfoss as part of a shorter self-drive tour of the South Coast. 
There are plenty of awesome places to see in the South. 
In the summertime you will find puffins at the Dyrholaey Rock Arch and there's plenty of hiking to be done on the hills of Skaftafell. The black sand beaches of Vik, the magical glacier lagoon, and the world-famous Fjarðárgljúfur canyon can also be found in the South. 
For more ideas about what to do in every area of Iceland, you can check out our Ring Road guide. 
Taking Pictures of Waterfalls
If you want to take great pictures of a waterfall, it's a good idea to bring along a tripod. You will want to slow down your shutter speed to create a feeling of softness and flow. 
You can consider using a cable release too. This will reduce the risk that your camera will wobble when pressing the shutter. 
Waterfall photos usually look better when the sky is overcast rather than sunny. This is because the slow shutter speed doesn't mix well with too much brightness. The good thing about a sunny day is that you will get the chance to capture the rainbows in the waterfall mist.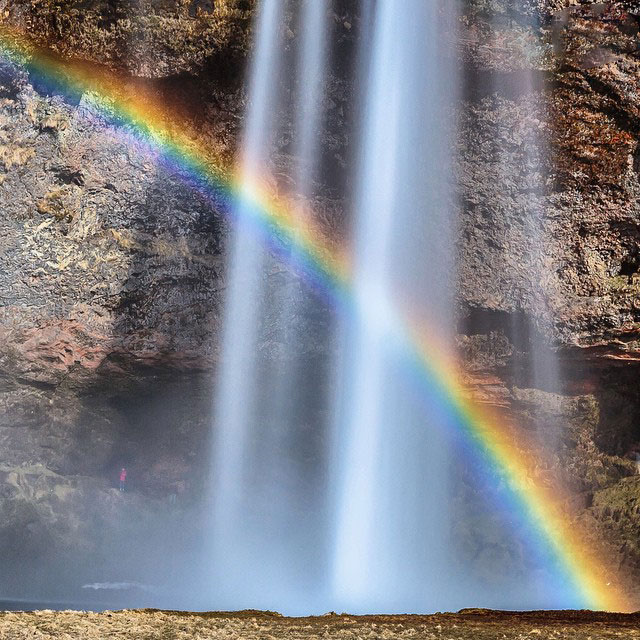 If you're standing behind Seljalandsfoss, your camera could easily get damaged by water. You need to be careful if you don't want your camera to break. One option would be to get a fully waterproof cover for your DSLR, but these are pretty expensive. 
It's up to you whether you want to risk it, but try not to get so carried away taking photos that you forget about all the moisture in the air!
See you soon!
We hope that you found this article about Seljalandsfoss and Gljúfrabúi helpful.

We have lots of resources to help you plan your perfect visit to Iceland. We also offer some awesome self-drive tours on our website, which will help you get on the road without any of the hassles of planning a trip.

Don't forget your waterproofs, and we look forward to welcoming you to Iceland soon!